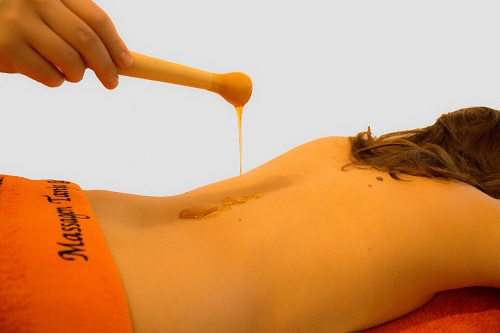 Die Classic Premium-Massage stellt eine neue Qualitätsebene der klassischen Massage dar. Through advanced techniques, the classic massage becomes a unique experience. This massage enhances the intensity, effectiveness and creativity of the classic massage.
The special effect of the honey is used in addition to the massage techniques. For this I only use Carinthian forest hones, as I am very convinced of its quality.
The skin-like PH-value of the honey balances energy-flow disturbances in the body and thus relieves pain and painful conditions of various causes, as well as the detoxification.
The vitamins and minerals of the honey are anioxidative and inhibit the so-called free radicals.
The honey is deeply integrated into the connective tissue thanks to the special tapping technique. The activated reflex zones of the skin support the overall effect. The slag stored in the connective tissue is released and can be excreted by the body. This improves the general condition as well as the skin image.